Best Micro USB cable
Last Updated on September 29, 2023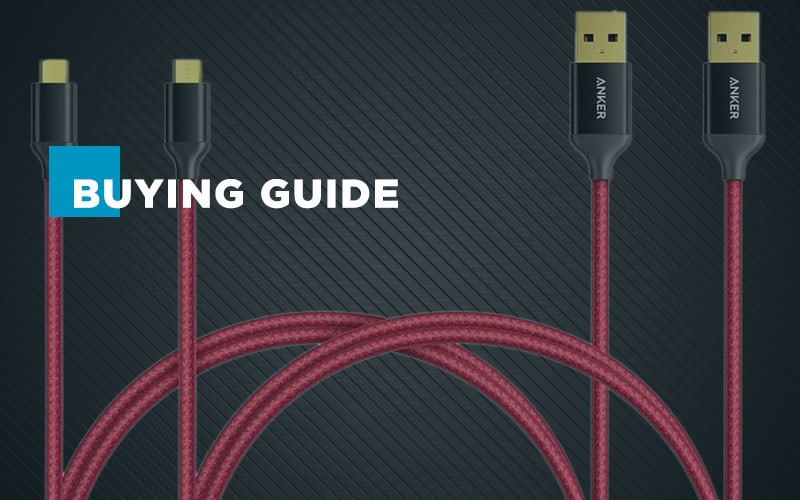 Whilst many new devices have shifted over to the more modern USB-C cable format, there are still millions of devices out there using Micro USB.
Micro USB had a great run, initially introduced back in 2007, it was the first big effort from manufacturers of devices to rally behind a single small form factor charging and data port. Before the introduction of Micro USB, it was typical for mobile phones and other devices to use proprietary connectors specific to a particular model. The proliferation of Micro USB opened the door for devices in different categories and from different manufacturers to share charging and data accessories.
These days, Micro USB is on the way out, having been overtaken by the more capable and more modern USB-C format, but it still serves its use. If you've got older phones, tablets, cameras, eBook readers, or other devices that use the Micro USB format, but are otherwise still perfectly functional, there's certainly no reason to throw those older devices away.
We've picked out a selection of reliable and good value Micro USB cables for handling your charging and data transfer needs with any Micro USB devices.
Products at a Glance
How we picked
We've collated a selection of Micro USB cables from reputable manufacturers, that each offers a slightly different balance of features, design, and value.
How we tested
We've compared the choice of materials, the aesthetic qualities of these cables, and how well built each of these cables are. In terms of raw functionality, any of these cables will suffice, each handling the straightforward task of connecting Micro USB devices to other ports without trouble. It's mostly a matter of personal preference for how the cable is designed, and what prices they are offered at, that set them apart from each other.
We've also got some good guides on the best wireless charger  and best portable charger, if that's what you're after.
Our Recommended
Best Micro USB cable
1
PROS
Available in either black or red
High quality braided shielding
Includes 18-month warranty
CONS
Only available at 3ft length
There are cheaper options
Perhaps overkill for a simple charging cable
These are a pair of solidly designed 3ft long Micro USB cables from Anker, and they offer a premium look and feel, and excellent durability. They're sold as a pair, and it's always handy to have a spare cable, should the need arise.
The threaded cable shielding, where they're wrapped with a durable nylon weave, offer far more protection against cuts and punctures than standard rubber cable shielding does. These cables come in either a standard black or an eye-catching red, which will make it easy to spot your charging wire if you're ever plugged into a shared socket.
Anker offers these cables with an 18-month warranty.
2
PROS
Great value
Reliable manufacturer
Excellent option of cable lengths
CONS
No manufacturer warranty
Only comes in black
Very basic look and feel
Monoprice has a great reputation for making straightforward cables at the cheapest price possible, and that's what you're getting here. It's an unremarkable cable that doesn't have any special bells or whistles and then passes that saving on to the customer.
The only options are different lengths of cables, where they have options spanning from 1.5ft to 15ft, and the price scales reasonably even for the very long cables. If you like to use your devices whilst charging them, the longer cables available here will give you lots of slack and room to maneuver in the space around the socket.
This cable is perhaps lacking in personality, but if you just need a standard functional cable, it's a great value option.
3
PROS
Flat cable makes it less likely to tangle
Great build quality
Reliable brand
CONS
Cheaper options available
Only comes in black or white
Limited options for different cable lengths
This is perhaps a good option for anyone who is constantly finding their cables have become tangled and knotted up when in a pocket or otherwise not currently in use. The flat cable design makes this cable less likely to get tangled in the first place, and easier to untangle if it does ever become tangled.
Beyond the flat cable, it functions much like you'd expect. It comes in lengths of either 6 Feet or 9.8 Feet, and there are both black and white options to match your devices.
Belkin is a seasoned manufacturer of peripherals and accessories, and this cable is manufactured to the standards you'd expect from a reputable company.
Things to consider
It is better value to go for one of the options that sell you bundles of multiple cables at a discount, but if you're certain that you'll only ever need one cable, you should opt for one of the cables that are sold individually.
What types of devices use Micro USB?
Since the introduction of USB-C, many devices like phones, tablets, and computer accessories have switched over to that cable format. It offers higher bandwidth, greater charging capabilities, and compatibility with modern video standards.
But the humble Micro USB, which not all that long ago was the dominant port for powering many devices, is still sticking around. Many older phones and tablets that use Micro USB still work fine, and even some newer devices designed to be manufactured cheaply use Micro USB still.
It does the job that's required of it, so if you have any devices that use Micro USB, you're going to need cables to use with them.
Our Verdict
We went for the Anker double pack as our choice for the best Micro USB cable to buy today. It's a pair of cables that are reasonably priced, have great design and build quality, and are from a brand known for releasing reliable products. The extra peace of mind given by the 18-month manufacturing is great for reassurance that these cables will not break or stop working under normal usage conditions. The gold plating on the connectors is perhaps a bit over the top, but it will protect against corrosion.