Last Updated on
A Windows 11 Pro key is what you need if you're looking higher up on Microsoft's OS tree than Windows 11 Home. That version of the operating system can be pricey though.
Because of that, this article will give you tips and information on how to get a Windows 11 Pro product key at a price well below MSRP.
Windows 11 Pro Key: how to save money
There are several things you can do to save money when you buy a Windows 11 Pro Key or any other software: price-check, compare and wait for discount events and special offers.
Each of these applies if you're looking to buy Windows 11 Pro. But the main thing is this: you don't need to buy from Microsoft directly.
Unlike a manufacturer of physical products, Microsoft has little incentive to offer a discount on its operating systems. Additionally, there's very little in terms of competition, so prices don't really need to drop too far.
In fact, if you check Microsoft's site right now while trying to get a Windows 11 Pro key, you'll see a standard price of $199.99. That's well above what you can actually get it for, and not by a little either. With a bit of nous, you can purchase Windows 11 for around $135 less than that.
Windows 11 Pro Key: best offers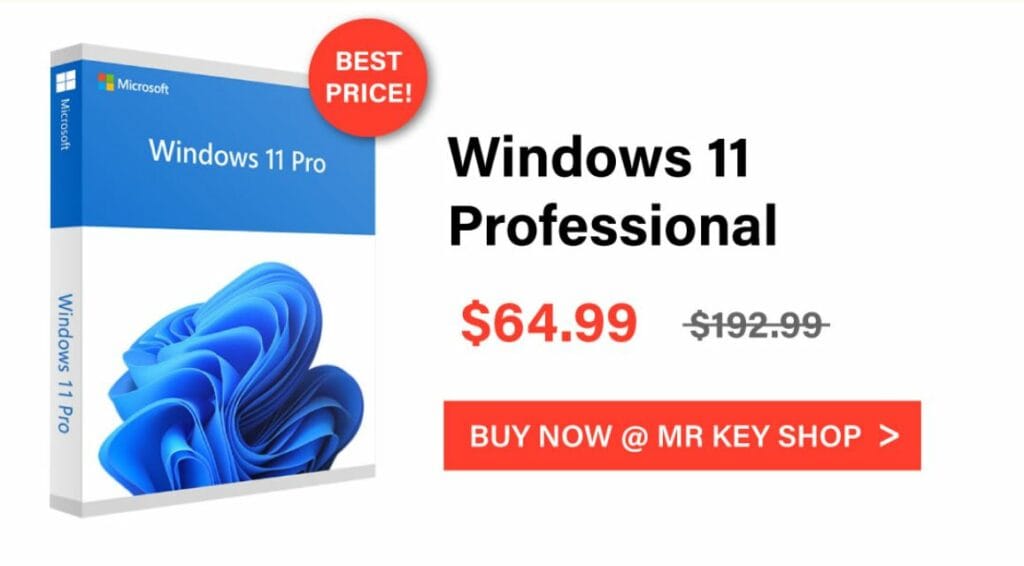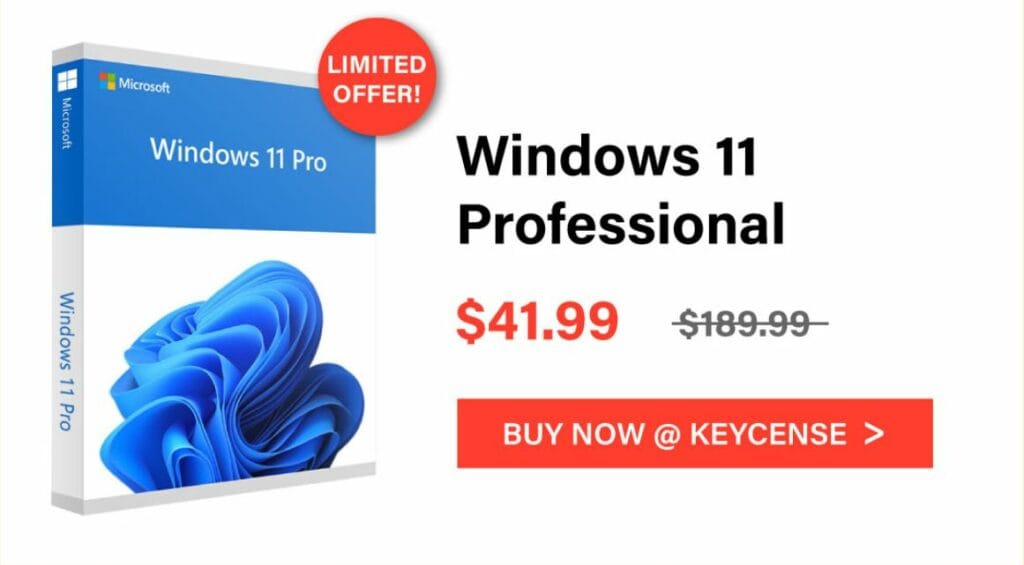 Where to buy a Windows 11 Product Key cheap
Where do you go buying a Windows 11 Product Key, if you're not getting Windows 11 from Microsoft? A trusted and top-rated reseller is our suggestion.
Picking a reseller may feel tricky, but really what you want is one with a good track record, that is easily contactable, sells 100% genuine licenses, and is regularly used by other shoppers.
Mr Key Shop is one such option for buying Windows 11, particularly as it has a 4.9 out of 5-star rating and over 2.5K positive reviews on Trustpilot.The company also offers a Windows 11 Pro Key for just $64.99, which is the lowest price we can see right now for any well-regarded reseller.
The way to spend even less, still being sure of turning to a reliable retailer, is to grab the launch offers from Keycense, a retailer that is rapidly expanding thanks to the right mix of competitive prices and flawless service.
Windows 11 price: is it a good time for a deal?
Having found the right Windows 11 price, is this also a good time to install it? Yes, it is. More than two years after its launch, Windows 11 is now a decidedly stable operating system. You've still got one year until the next version of Windows is expected, in 2024. Plus, Windows 11 support is due to be continued by Microsoft until October 2025.
The one caveat to buying Windows 11 now is that you could have taken advantage of Black Friday to get an even better deal. But don't regret missing out, Black Friday deals are not the only offers you can find if you periodically check the suggested stores, where rates are continuously updated and may offer an even better price for a Windows 11 Pro Key at any time of the year, as for antivirus for Android, iOS, PC or Mac and many other software.
Mr Key Shop also sells Microsoft Office keys. So if you're looking to buy an MS Office 2021 key or any other version of the suite – Office for Mac included – it could be that you can get fully set up for even less, unless you can get Microsoft Office for free. In addition to Windows and Office packages, you can find other Microsoft products on Mr Key Shop, such as Windows Server and SQL Server licenses, as well as antivirus software, VPNS, backup and recovery software. You'll also find the subscription version of Microsoft 365 and single Office app licenses.
Additionally, Keycense's launch offers are also available for Microsoft Office, Office Apps, and security software like antivirus and VPN apps; as well as for Windows operating systems and gaming gift cards and licenses.
How to upgrade to Windows 11 free
If your PC runs a legit instance of Windows 10 Pro, activated with a Windows 10 Pro Key, you are eligible for upgrading to Windows 11 Pro for free – if your device complies with the system requirements (we're looking at you, TPM). Therefore, if you have a previous edition or a different version, you can purchase Windows 10 and then profit from the free upgrade, as long as Microsoft allows it, to make an even better deal.
How to download Windows 11
Downloading Windows 11 will depend on which option you have chosen: buying a full Windows 11 Pro license, or a Windows 11 Pro Upgrade key – to move from Windows 11 Home.
Either way, once you complete a purchase with shops like Mr Key Shop or Keycense, your product key will be delivered to your inbox, and you will receive everything required to download and install:
Windows 11 Professional OS (1 license for a single user)
Official download link for Windows 11 Professional ISO file
Instructions on how to download, install and activate Windows 11 Professional
Free, English-speaking Customer Service
Your invoice
How to install Windows 11
Use the link and instructions to install Windows 11. Ensure you have all of your data backed up if you are upgrading or using a system with existing data on it.
The installation process can take some time, and the instructions provided with your license are best followed exactly: this will make the process very easy.
If you have any issues with installation, you can contact your reseller – both Mr Key Shop and Keycense offer free customer service to help you in getting set up.
How to activate Windows 11
Once downloaded and installed, you'll need to activate your Windows 11 Pro Key.
Again, you will have received detailed instructions on how to do this with your purchase, along with a 25-character product key in this form:
PRODUCT KEY: XXXXX-XXXXX-XXXXX-XXXXX-XXXXX
During your Windows 11 Pro installation, you'll see a prompt to input your product key. You can do this to activate, or wait until after installation is finished.
If you choose to activate after installation, hit the Start button, and then navigate to: Settings > System > Activation > Update product key > Change product key.
Windows 11 Pro vs Home: which one to choose?
You may well have already compared Windows 11 Pro vs Home, but it's useful to have the differences in mind when shopping.
Two of the key differences are that Windows 11 Pro offers BitLocker device encryption and offers WIP (Windows Information Protection) for the prevention of data leaks on devices users may take to work.
You can find the full comparison of relevant features on Microsoft's Windows 11 Home vs Windows 11 Pro page.
How To Activate Windows 11 Pro Without Product Key
Activating Windows 11 Pro without a product key is not possible, simply because software activation is what product keys are made for. Even KMS, legal or not, use activation codes to keep a software activated.
You can eventually activate the OS for free, using a Windows 11 Pro free activation key. This is what usually happens when you buy a new PC from a store – they will probably include the activation key in the final price.
Using an activated software is essential, especially when it comes to the operating system, to get the free periodic updates including new features and bug fixes.
To keep your operating system updated and protected, saving your money, you can get your Windows 11 Pro Key at a very low price from trusted retailers like those suggested above.