Last Updated on
There's nothing worse than poor internet signal in your home office. Disrupted video calls, poor gaming speeds, and never-ending downloads are just a few of the tell-tale signs that your wifi connection isn't up to scratch.
That's where we come in. There's never been a better time to upgrade your WiFi system – thanks to this brilliant deal on Amazon for Google's WiFi mesh Ac1200 system.
Editor's pick
Save $47
ARRIS SURFboard S33 32 x 8 DOCSIS 3.1 Multi-Gig Cable Modem with 2.5 Gbps Ethernet Port
Editor's pick
Save $50
ARRIS SURFboard DOCSIS 3.1 Cable Modem & Dual-Band Wi-Fi Router for Xfinity and Cox service tiers
Editor's pick
Save $100
NETGEAR Nighthawk AX6000 Wi-Fi 6 Router with DOCIS 3.1 Cable Modem
Editor's pick
Save $105
eero 6+ AX3000 Dual-Band Mesh Wi-Fi 6 System (3-pack)
Editor's pick
Save $120
NETGEAR – Orbi AX4200 Tri-Band Mesh Wi-Fi 6 System (2-pack)
Editor's pick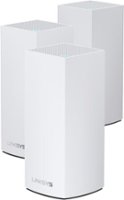 Save $150
Linksys Atlas Pro 6 Dual-Band Mesh WiFi AX5400 – 3 Pack
*Prices are subject to change. WePC is reader-supported. When you buy through links on our site, we may earn an affiliate commission.
Learn more
You can currently snap up the unit for less than $149 – thanks to a cool 30% off. So, what do you get for that? Well, Google WiFi is a scalable flexible mesh WiFi system that they claim 'blankets your home in reliable coverage'.
The Google WiFi point replaces your router and additional points expand your network to keep the connection fast in every room. To give you confidence, Google claims a one-pack will cover 1500 square feet while a 3 Pack covers up to 4500 square feet. All the points work together to create a mesh network for more coverage.
It's smart, too. Google WIFI works behind the scenes to make sure your WiFi remains fast so you can stream with speed.
Plus, it's pretty easy to set up. Simply use the Google Home app to create your network and get online in minutes.
There are parental controls, too, that let you manage screen time, restrict certain kinds of adult content, and pause Wifi to specific devices on your mesh network whenever you want.
As expected, Google Wifi points can be added to any existing Nest Wifi system, you  just add more points if you need more coverage
What is a mesh WiFi network?
Mesh WifI uses multiple units, sometimes called 'nodes' which create a web or 'mesh' of WiFi throughout a house or building. Modern WiFi technology means your network's signal can be echoed to reach further, while still maintain speed and stable performance.
Mesh WiFi can help to easily open up 'dark spots' in a building where WiFi may not traditionally reach – great for home use if you want to keep connected wherever you are.