Grado GT220 True Wireless Headphones Review
Premium audio quality in a compact form factor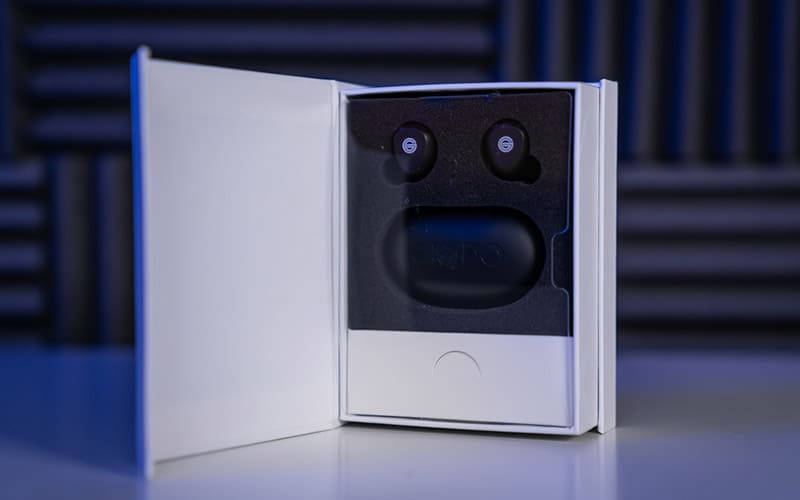 Professional-level audio devices that are widely available to consumers are a little bit of a rarity but with expertly tuned products that deliver time and time again, Grado fills that gap in the market.

Today, we're going to be looking at the Grado GT220, a pair of in-ear headphones that aim to pack that professional audio quality into a tiny, true wireless form factor. We'll run you through all aspects of the Grado GT220s including what to expect in terms of features, battery life, design, build quality, and audio quality, as well as giving you our final verdict on whether this premium option is worthy of a purchase.

You might also be interested in:

Best Wireless Earbuds
Best Wireless Earbuds Under $50
Best Bone Conduction Headphones
Best USB-C Headphones
Best Gaming Earbuds
Let's get down to business, what's the all-important audio quality like from the Grado GT220s? Well, we can confirm, like other headphones in their lineup, it does not disappoint.

Even in the tiny, compact nature of a true wireless variant, Grado has managed to fit their custom 8mm drivers which deliver its world-famous sonic signature. This details fantastically sounding audio that's far superior to that of most other true wireless headphones I've tried. What they also do great is keeping those levels from blowing out when cranking that volume up. The bass never feels distorted, even though it's prominent, and every guitar string pluck can be heard distinctly.

Due to the shape of earbuds themselves, the 'twist and seal' functionality allows the sound to be encapsulated in your ears almost creating a noise-canceling effect. This, therefore, allows you to hear every single beat and spoken word of a podcast with extreme clarity, and true to how the artists intended.

For me personally, I've used the Apple AirPods for some time, and going back to them post-GT220s is a huge downgrade in terms of audio quality. After listening to what feels like a true professional experience with these Grado true wireless headphones, I'm not sure if I'll be happy with inferior sound ever again…
Unfortunately, where they excel in audio quality, the Grado GT220s do lack a few features that you'd typically see at this price point. One such feature is active noise cancellation which removes any outside audio so you can simply listen to what you want to. The 'twist and seal' buds do filter out outside noise well but it just doesn't have the same effect. Moreover, unlike the AirPods, there's no 'transparent' functionality so if you do in fact like to hear a bit of outside sound, maybe if others are talking to you, you're going to struggle.

There's no bundled app for settings or EQ options either which might be a disappointment for those who like to fine-tune the sound to their liking, but that being said, really, this isn't a dealbreaker for most.

On the flip side, there are a few inclusions that you can certainly benefit from.

The Bluetooth 5.0 technology packed into the GT220s allows for you to have some distance between you and your device, especially useful if you like to pop in your headphones and do a bit of housework without carrying around your phone. You can connect to any Bluetooth-enabled device with ease too. I hooked them up to my iPhone XS Max and laptop in an instant and experienced no drops in either connection or audio quality throughout the duration of my testing.

Looking at the headphones you might be wondering where the button controls are but everything is touch-sensitive, with skip, pause, and volume control functionality. This adds to the aesthetics and removes any potential button 'sticking' after years of use. Speaking of controls, there's full Siri and Google Assistant support allowing you to directly access their functions right from these headphones.

For the charging case, it utilizes a USB-C connection, which is the way forward for all devices, as well as Qi wireless charging functionality if you want to amplify that true wireless nature of this product even further.
The feel of both the case and the headphones themselves has a sense of premium about it with a 'matte' touch to them. While feeling great it also gives you more grip, hopefully limiting the number of times you drop them. They're IPX2 certified too, which gives them some waterproofing and certainly enough resistance to any rainfall you might experience while out and about.

What they do lack though is a little bit of weight to the headphones. While weight might seem like something that's undesirable in a product of this ilk, what it does is give it a more robust feel, giving you the sense that if dropped, it'll take the hit and not break. This might be a personal preference thing for me but something you might want to consider if you're accident-prone.
Grado suggests in their product listing that the GT220 wireless headphones should provide you with 6 hours based on a full charge. After testing these myself, I do believe that to be true, and sometimes longer when not using for continuous playback. This is around 2 hours above than what you get with the similarly priced AirPods Pro so props to Grado for surpassing that.

When combined with the fully charged case, you can expect to receive a further 30 hours playback time bringing the combined total of 36 hours. For the average user, this means you won't really need to charge up that case for a couple of weeks, negating the main reason why people traditionally stay away from true wireless variants.
The design of these in-ear wireless headphones from Grado sticks to the tried and tested formula that many other companies opt for rather than imitating that of Apple AirPods. This, therefore, makes them extremely compact, keeping the main body of each headphone confined within the ear itself. I've got ears on the larger side (an upside for this specific purpose…) so these fitted nicely. But, for those with small, shallow ears, you may experience them sticking out a little.

The lights on the headphones are a nice indicator on whether they're in connecting mode or are synced up already, a handy addition and removes that little time period where you ask yourself if the Bluetooth connection is working or not.

The charging case, while feeling nice to the touch, is a little on the chunky side and you'll certainly not get away with trying to conceal it in the average pocket. It'll fit, don't get us wrong, but due to the width/height dimensions, you might find yourself feeling a little awkward out in public. Obviously, if you're someone who simply throws your charging case into a bag or simply doesn't take it at all, that completely negates the whole issue.
Fantastic audio in a tiny package
Overall, there's no question that the Grado GT220 wireless headphones offer exceptional audio that even you audiophiles out there will be impressed with. The rich, detailed sound is great not only for listening to your favorite music but also for those wanting to hear the spoken word of podcasts clearly, and true to the recording. The overall design and build quality of these headphones is definitely up to scratch and competes with other headphone variants on the market.
The elephant in the room though is the $259 (£225) price tag. Does the audio quality match that of other wireless headphones in this bracket? We'd say so. But, there are a few other features that it lacks such as active noise canceling and 'transparency', which competitors bundle in.
All in all, should you pick up the Grado GT200 wireless headphones for yourself? We'd say if you want exceptional audio quality and don't mind spending that little bit extra for it, click that buy button instantly. But, if you're looking for a more feature-rich product and are limited in terms of budget, there could be other options on the market that may suit you better.