Best Playstation VR Accessories
Okay it's not PS4 but if you are hellbent on getting into VR and have a PS4, this may be the cheapest way to try it out.
Last Updated on August 19, 2022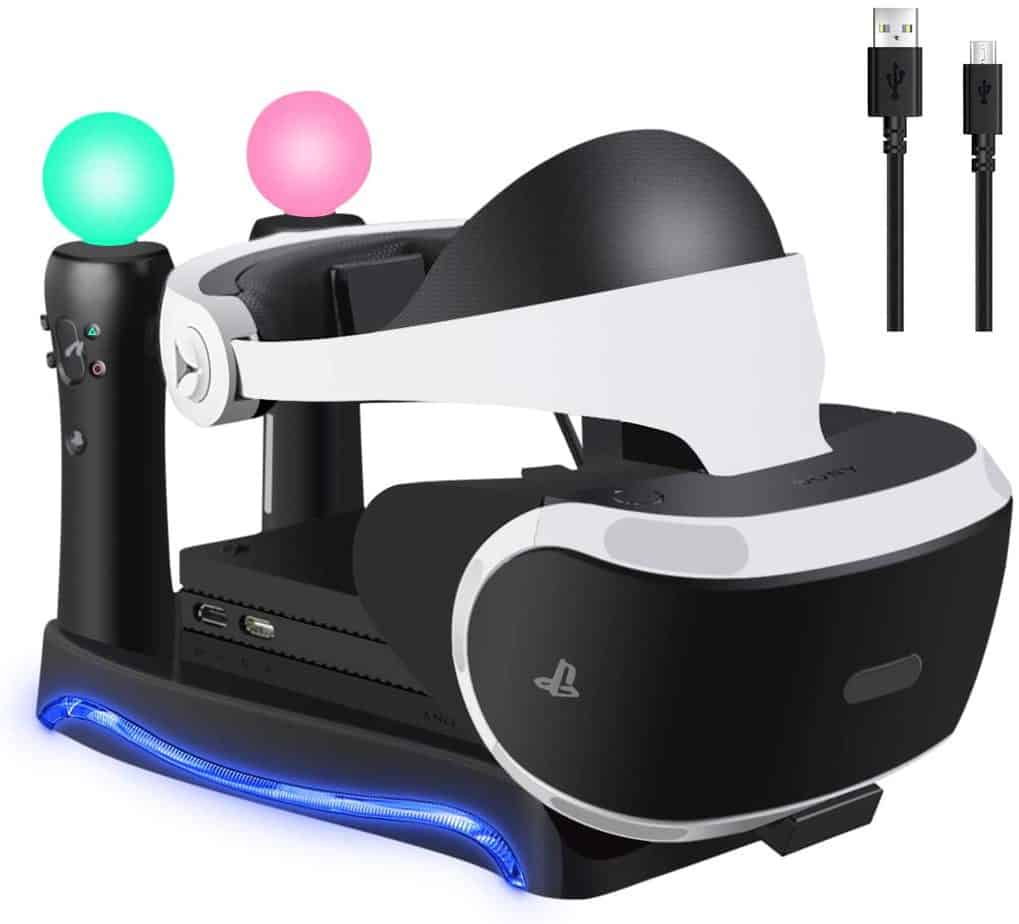 After spending so much money on an expensive VR headset, you don't want your experience of VR gaming ruined by using duff second hand accessories that don't effectively do what they're supposed to, or aren't particularly well suited to the VR games you have in mind.
For example, imagine paying big ticket money for a second hand Playstation VR controller charging station, only to find it takes forever to charge your controllers, and then the controller's charge runs out in just half an hour of play.
The solution of course is to seek out brand-new accessories that are purpose built for the console you are using. In this case, the Playstation.
We've been checking out some of the best Playstation VR controllers, headset bundles, and charging stations that are out on the market at the moment. After much deliberation, we were able to put together a Top 10 of what we believe are the best Playstation VR accessories available.
So that's what's coming up next, and after that we also have a brief Buying Guide for you, followed by another handy section where we answer some of your most frequently asked questions on the subject.
And without further ado…
Products at a Glance
Our Recommended
Best Playstation VR Accessories
1
PROS
Cheap way of getting into PSVR
PlayStation exclusive VR titles
CONS
While it should be good as new, it will be used
The most essential piece of kit to play VR on the Playstation is the headset…
And normally a Playstation headset will set you back at least $400. However, if you were to buy an Amazon Renewed headset like this one, that works just as well as a brand new one, and is in just as good condition, you can get it for a fraction of the price and save yourself over $100 in cash.
And to make it even easier to afford, you can even pay in installments upon approval for the Amazon Rewards Visa Card.
The headset comes with several important accessories, such as a processor unit, a connection cable, a USB cable, an HDMI cable, an AC power cord, stereo headphones, a Playstation VR demo disc, and an AC adapter. The only thing that's missing that you might also want to get is a Playstation camera.
The only real drawback to buying a Playstation VR headset this way is that it doesn't come bundled with a Playstation VR game. However, you may find that some PS4 or PS5 games you already one are VR compatible.
2
PROS
Tried and tested motion controllers
CONS
You don't look cool waving them about
After the headset, the next most essential item you need to play Playstation VR is a move motion controller. It is with one of these controllers that you can interact with the VR world around you. The motion controllers can serve as wands or swords or all manner of tools and weapons.
They work by way of advanced motion sensing and light tracking technology.
The controllers have an ergonomic design that makes them comfortable to use for long hours of play, and its trigger and face buttons are very easy to access.
One of the stand-out features of these move motion controllers is how they provide vibration feedback, perhaps when you hit a zombie for example.
It comes in a pack of two, so you can use both hands in your chosen games.
The batteries it uses are entirely rechargeable, and after a full charge the battery will last for up to a whopping 10 hours of play.
There is a USB cable supplied with the motion controllers that you can use to charge them up with, or if you prefer, you can get yourself a charging station. We'll be showing you one of those shortly.
3
PROS
Bundled game and controller
Best way to play FPS shooters
CONS
If you already have the game you only really need the accessory
If you love shoot-em-ups, but you don't feel you're quite prepared to take on zombies, then this bundle would be a great option for you.
With this bundle you get a very realistic strategic shooter game where the enemies are trained soldiers. And you also get a special two-handed controller with which to shoot them. And this expands the range of guns you can use in the game, including some of the more popular guns used in this type of combat.
However, you may find that you will be able to play a lot of other shooter games with this controller rather than just the game that comes with the bundle.
You can also buy the bundle with other accessories. For example, you can buy it with the move motion controllers, or with a charging dock, or with VR Worlds…
These VR Worlds are really basically a selection of 4 VR games – and they're quite fun ones, too. You've got London Heist, where you become part of London's gritty criminal underworld. There's Ocean Descent where you can see marine life up close and personal without even getting wet. There's Luge-Feel, where you take part in illegal races. And finally there's Scavengers Odyssey, where you board an alien craft and attempt to recover an ancient artifact.
4
PROS
Adds extra realism
Less likely to drop the controller
CONS
Looks quite realistic, don't wave it in the street
If you prefer the idea of conducting your shooting games with a replica of a pistol, then this would certainly be something to consider. It looks and feels just like a pistol.
In order to use it in a game, all you have to do is affix your move motion controller to the pistol-like controller holder, aim and push the trigger.
It's very lightweight, which makes it comfortable to use for hours on end.
We were also pleased to hear that it's made with environmentally friendly plastic, so you don't have to feel guilty about damaging the environment when you buy it.
It comes in a pack of two, so you can simultaneously shoot enemies to your left and your right.
Despite its relatively realistic appearance, however, it's not a real gun and is perfectly safe to use.
There are a number of different Playstation VR games you can use it with, such as Bravo, Pistol Whip, Firewall Zero Hour, and Blood & Truth.
The only drawback to buying this pistol controller holder is that you'd have to buy the move motion controllers separately.
Buying Guide
As promised, here's your buying guide. It should give you a little food for thought before you get spending your money.
Brand New Vs Second Hand
Ok, we're going to level with you. You could potentially save a lot of money by going second hand or pre-owned.
But you know what, we really don't always recommend it. You could maybe get away with getting a decent Playstation headset second hand, but I'm afraid we can't say the same for the Playstation controllers or the charging stations.
Unfortunately, Playstation controllers – even the VR ones – aren't built to last the way that their regular controllers are, and if you buy second hand you could end up with a duff model, which is not what you want.
The exception to this rule comes when you buy an Amazon renewed product. Amazon renewed products may be pre-owned, but they have been refurbished and professionally inspected by an Amazon qualified supplier, and have been proved to work just as well as brand-new products.
Playstation Brand Vs Other Brands
Playstation headsets are typically sold as bundles with a VR game, and this is the most cost-effective way of getting a headset that's compatible with Playstation games, and you get a game at the same time. So buying a Playstation headset as a bundle is something of a no brainer.
You will also have to buy from the Playstation brand for your controllers. But this is not the case for your audio equipment and charging stations, and you're safe to go off brand for these items.
Choosing Controllers
When choosing controllers to be used as guns in your VR games, it makes sense to have a controller that you feel and operate in the same way as the gun appears in the game.
And you shouldn't settle for a single controller, since many games will require the use of two.
What accessories do I need for PlayStation VR?
Here's what you need for Playstation VR:
Playstation 4 /
Playstation 4 Pro /
Playstation 5
Playstation VR bundle (headset, earbuds, processor unit, HDMI cable, USB cable, headset connection adaptor, AC adapter and cord)
Playstation camera and camera adapter
Playstation Move Controller
Our Verdict
Editor's Choice
Best Playstation VR Accessories
Something for everybody here, from renewed headsets to charging stands. Everything listed here will add to your PlayStation VR experience. It just depends on what you need!