Last Updated on
Ryzen 5 7600X is reportedly 11% faster than Core i9-12900K, according to AMD's official benchmarking.
This statistic, which was originally reported by WePC, was unveiled during the Zen 4 7000 series showcase earlier this month.
During this event, AMD CEO Dr. Lisa Su revealed that the Ryzen 5 7600X, the Zen 4 entry-level CPU, is significantly faster in Geekgench 5.4 Single-Thread Performance than the Core i9-12900K, its competitor's current flagship processor.
The Ryzen 5 7600X scored a total of 2175 compared to the Core i9-12900K's 2040 in the same industry-standard benchmarking test.
Ryzen 5 7600X vs Core i9-12900K gaming performance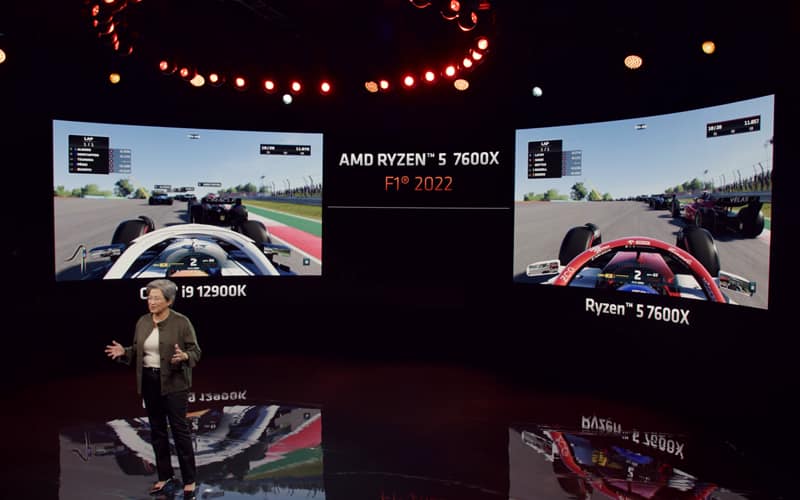 Real-world performance was consistent with these quoted figures. Later in the event, Su demonstrated the soon-to-be-released Ryzen 5 7600X against the Core i9-12900K in F1 2022, with the former delivering higher average frame rates for a total performance increase of up to 11% over the leading Alder Lake processor.
Ryzen 5 7600X had a total maximum FPS of 477, compared to Core i9-12900K with 430.
Su stated following this benchmarking test: "As everyone knows, faster single-threaded performance is great for gaming", and the current figures of the new generation of chipsets are certainly promising on this front.
AMD's claim of the Zen 4 architecture being the "fastest core in gaming" is consistent outside of the Ryzen 5 7600X, though. As expected, the three other chipsets in the 7000 series family vastly outperform Team Blue, too.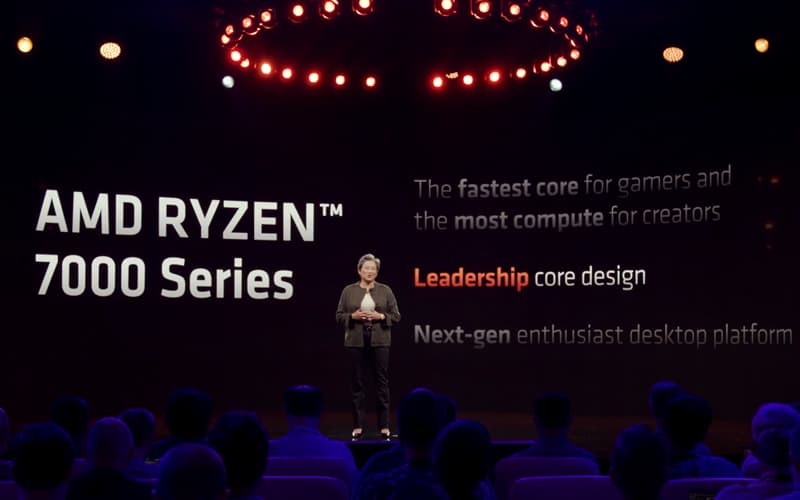 That's our mainstream price point against our competition's best

AMD CEO Dr. Lisa Su
Most encouraging with the Ryzen 5 7600X is what it represents from a price-to-performance perspective. With its aggressive market rate of $299, a full $290 cheaper than Core i9-12900K at MSRP (around 50% cheaper). AMD looks to be bringing market-leading performance at accessible price points for the wider PC gaming market.
The Ryzen 7000 series utilizes the new AM5 socket (1718 LGA) built on 5nm Zen 4 architecture.
You won't have to wait long to get your hands on AMD Zen 4 architecture processors, so if you're after where to buy Ryzen 7000 CPUs, the 7600X and the rest of the range will be released on September 27.