Last Updated on
Don't overspend on a new system, grab yourself a gaming PC Black Friday deal instead! 2023 has been subject to a whole host of new launches from the likes of AMD, Nvidia, and Intel, offering us the next generation of gaming. Of course, new tech comes at a high price but thanks to the Black Friday sales event, you can save yourself hundreds of dollars on some of the latest and greatest PC hardware. Everything from prebuilt PCs to components will be on sale this Black Friday and we will be bringing the cream of the crop to this very article.
If you are in the market for a brand-new 4K capable gaming PC, a more affordable 1080p esports system, or everything in between, there will be a deal for you. Every brand and major retailer takes part in this event. The best deals are not just reserved for older hardware either, we will likely see gaming PCs featuring DDR5 RAM, RTX 40-series GPUs, and Intel 14th-gen CPUs too.
Best Black Friday gaming PC deals 2023
Keep checking back on this block for the very best Black Friday deals that are still knocking around. We'll keep updating regularly for the newest and best.
Editor's pick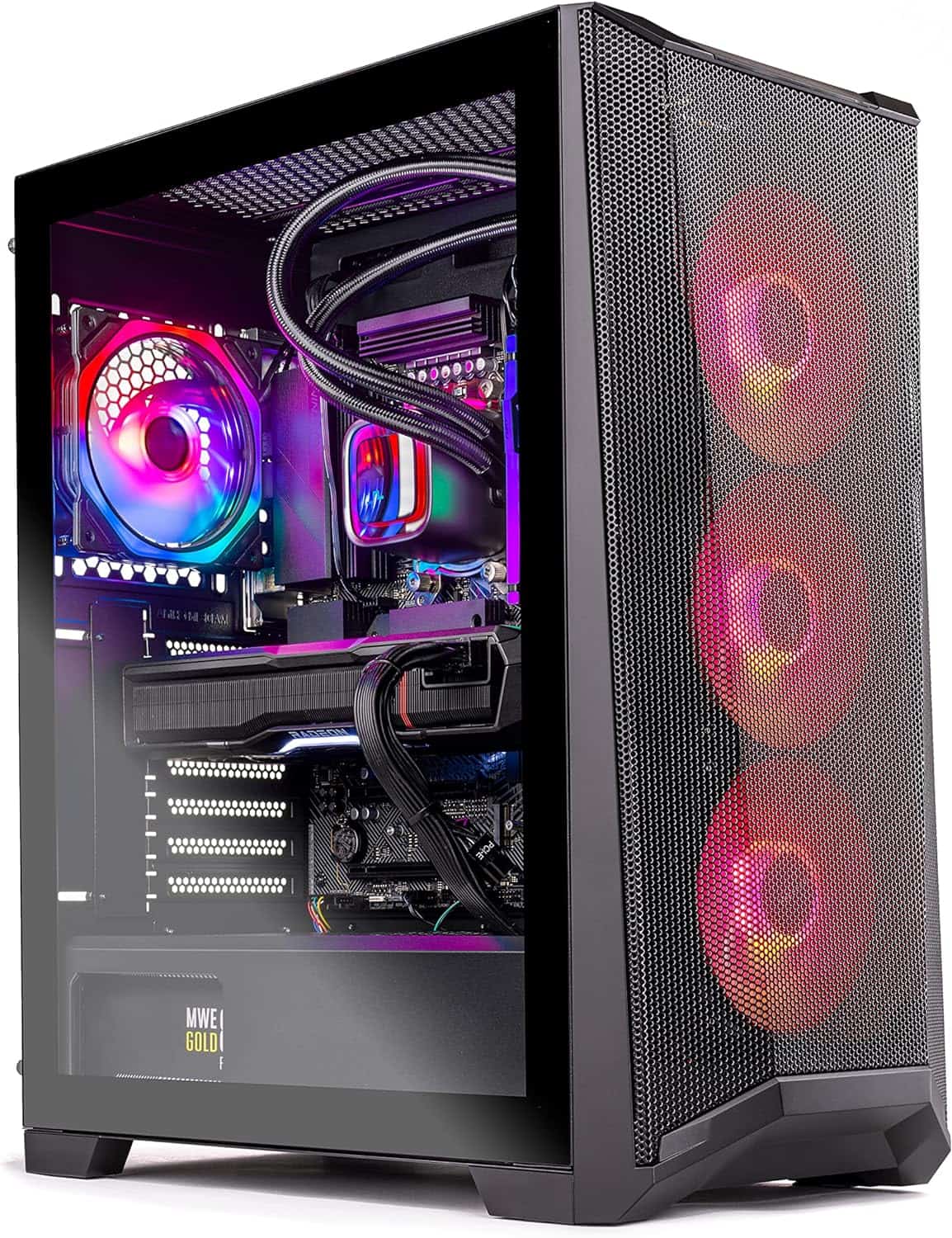 Save 16% NOW!
Skytech Gaming Chronos Gaming PC, RTX 4070
Ryzen 7 7700X 4.5 GHz, RTX 4070, 1TB NVME, 32GB DDR5 RAM RGB, 650W Gold PSU Wi-Fi, Win 11 Home, RGB-Keyboard and RGB-Mouse Included
Editor's pick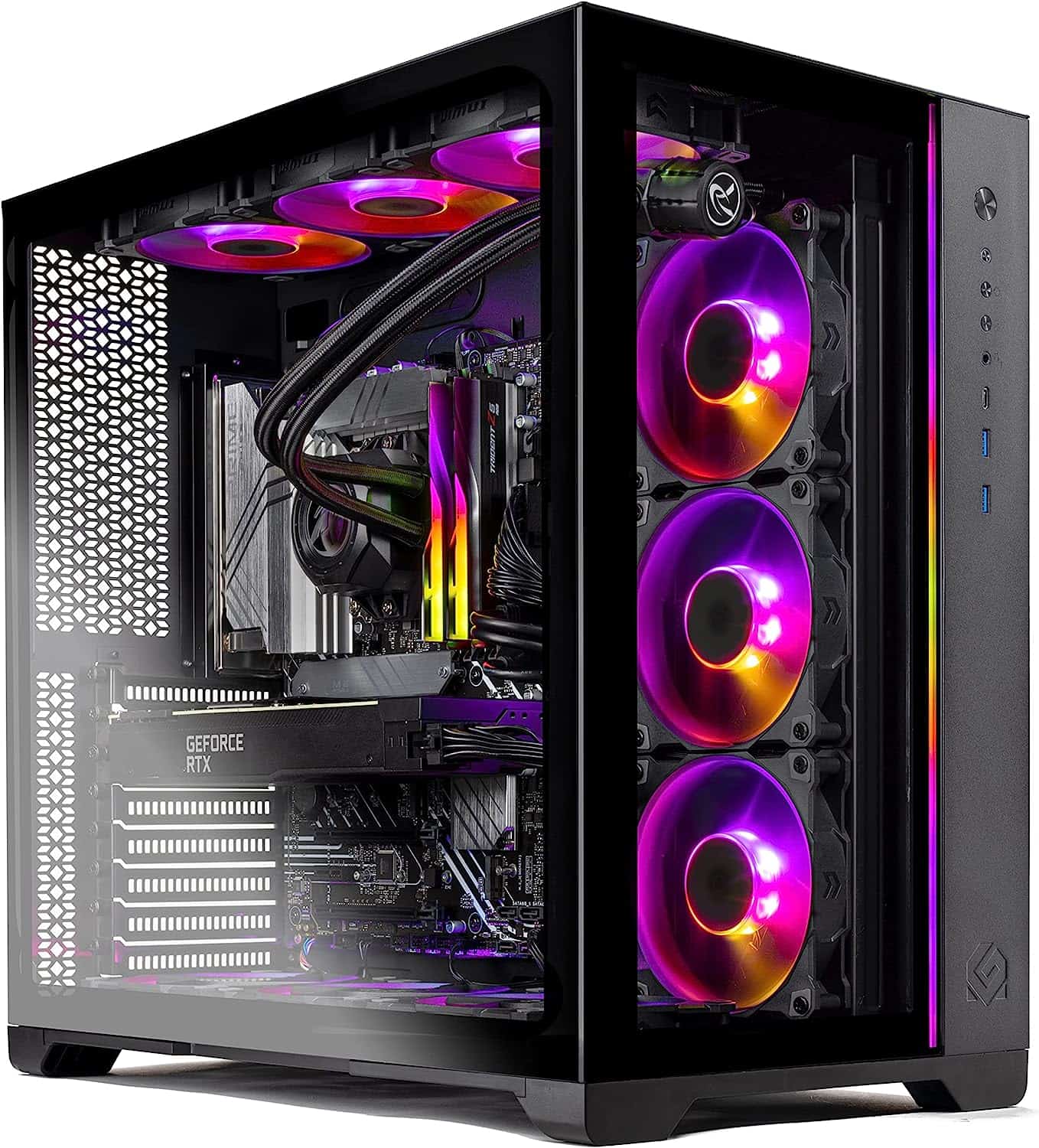 Save 49% NOW!
Skytech Gaming Prism II Gaming PC Desktop, RTX 3090
INTEL Core i9 12900K 3.2 GHz, RTX 3090, 1TB NVME Gen4 SSD, 32G DDR5 RGB, 850W GOLD PSU, 360mm AIO, AC Wi-Fi, Windows 10 Home
64-bit
Editor's pick
Save 35% NOW!
Skytech Gaming Prism II Gaming Computer PC Desktop, RTX 3080 Ti
AMD Ryzen 7 5800X 8-Core 3.8GHz, RTX 3080 Ti 12G GDDR6X, 1TB NVMe Gen4 SSD, 16GB DDR4 3200, RGB Fans, 360mm AIO, AC WiFi, Windows
11 Home 64-bit
Editor's pick
Save 35% NOW!
Skytech Gaming Prism II Gaming Computer PC Desktop
AMD Ryzen 7 5800X 8-Core 3.8GHz, RTX 3080 Ti 12G GDDR6X, 1TB NVMe Gen4 SSD, 16GB DDR4 3200, RGB Fans, 360mm AIO, AC WiFi, Windows
11 Home 64-bit
Editor's pick
Save 19% NOW!
Liquid Cooled Intel Core i9 13900KF 3GHz 24-Core Processor, 64GB DDR5 Memory, GeForce RTX 4070 12GB GDDR6X Graphics, 2TB SSD, 6TB HDD, WiFi, Windows 11
Home 64-bit
Editor's pick
Save 11% NOW!
Corsair Vengeance i7400 Series Gaming PC
Liquid Cooled Intel® Core™ i5 12600KF CPU – NVIDIA® GeForce RTX™ 4060 GPU – 1TB M.2 SSD – 16GB Vengeance RGB DDR4 Memory – Black
Editor's pick
Save 11% NOW!
Corsair Vengeance i7400 Series Gaming PC
Liquid Cooled Intel® Core™ i5 13600K CPU – NVIDIA® GeForce RTX™ 4060 Ti GPU – 1TB M.2 SSD – 16GB Vengeance RGB DDR4 Memory –
Black
RTX 4090 gaming PC Black Friday deals
You may think the flagship GPU probably isn't going to be on sale this Black Friday, however, we saw some prebuilt featuring this card drop to their lowest-ever price during Amazon's Prime Day event. So if you are in the market for the best gaming PC money can buy, hold out till Black Friday as we will likely see this drop once again. Saying that, an RTX 4090 gaming PC is still going to cost you somewhere between $2,500 – $3,200 while on sale, so make sure you have the finances and avoid disappointment.
RTX 4080 gaming PC Black Friday deals
There will be a deal featuring every Nvidia GPU come Black Friday. The RTX 4080 fell out of favor with gamers for a lack of value, however, when it comes to a Black Friday prebuilt deal it is a different story. We could see these dip below the $2,000 mark, giving you a supremely good 4K capable PC for a lot less. While the RTX 4080 doesn't come close to the flagship, it can still handle every game in 4K or high FPS counts when playing on a 240Hz 1440p gaming monitor.
RTX 4070/ 4070 Ti gaming PC Black Friday deals
This is going to be the sweet spot for most shoppers looking to upgrade or grab someone a gift. Generally speaking, you can grab one of these gaming PCs for around $1,500, so we are expecting to see some Black Friday deals around the $1,100 – $1,300 mark. An RTX 4070 gaming PC will deliver excellent performance, especially when playing in 1440p.
RTX 4060 / 4060 Ti gaming PC Black Friday deals
for many gamers on older RTX 30-series graphics cards, the RTX 4060 and Ti variants didn't offer much in terms of an upgrade so it was shunned. That being said if you are new to PC gaming and are looking for an affordable 1080p gaming PC to begin your journey or buy as a nice gift this Christmas, the RTX 4060 models hold a lot of value. These are technically the best 1080p, affordable GPUs on the market, and we are already starting to see discounts. You can expect an RTX 4060 gaming PC to dip below the $100 mark, possibly grabbing a deal as low as around $800 this Black Friday.
Where to find the best Black Friday Gaming PC deals
Gaming PCs will be available from many retailers for Black Friday, including large electronics stores and specialist builders. We'd recommend keeping an eye on:
It isn't just your standard retailers taking part in Black Friday this year either, you can grab excellent discounts straight from major PC manufacturers too such as iBuyPower and CyberpowerPC.
When will Black Friday Gaming PC sales start in 2023?
This depends on when retailers kick off their sales. Usually, sales start to appear in early November, with different retailers going their own ways in terms of how long the sale is and how deep the offers go. At least we know that Black Friday itself is 24th November, so expect all deals to be up by then.
Still, it's reasonable to expect November to see some deals in the first weeks, followed by more Gaming PC deals as the month gets closer to Black Friday. Key deals may even appear on the day itself, while Cyber Monday should bring even more offers.
Should you wait till Black Friday for a gaming PC deal?
Having closely monitored gaming PC prices throughout the past year, we've observed that, at times, the most attractive deals don't align with conventional sale periods. The challenge in securing the best deal lies in accurately gauging its value. We advise a thorough comparison of the current deal prices with those on other retailer sites to confirm the genuine drop in price. While optimal deals frequently emerge during Black Friday and Cyber Monday, earlier deals are not uncommon.
Unless urgency dictates otherwise, we highly recommend delaying the purchase of a gaming PC until Black Friday week, especially if your preferences lean toward models with higher specifications or those featuring RTX 40 series GPUs.
Features to consider when looking for a Black Friday Gaming PC Deal
Aside from value, there are a few key areas to look at when choosing the right Black Friday gaming PC deal.
Graphics Card: The graphics card is the most important component of any gaming PC, often taking up most of a system builder's budget. The same applies when shopping for a prebuilt system too. You can expect gaming PC deals featuring the latest RTX 40 series and AMD Radeon 7000 GPUs inside. The latest components can cost quite a lot, even with a deal, so you should also be on the lookout for previous-generation cards, sometimes offering far greater value. Of course, this all depends on what end results you hope to achieve but rest assured knowing there will be the perfect system for you when Black Friday arrives.
CPU: The CPU is important but takes a back seat to the GPU. This will support the rest of your system for more than just gaming, making it feel snappy and perform your day-to-day tasks in the background. As we are dealing with prebuilt PCs here, there are no compatibility issues to concern yourself with.
Storage: SSDs are great for the speed of operating systems and loading games. HDDs are solid for storage. Ensure you have the right setup before you click buy. You will find most systems over $1000 will feature at least 1TB of fast SSD storage and sometimes even more HDD space too. Try and aim for 1TB with your chosen prebuilt as these can surprisingly fill up quite quickly. If you are struggling, you can always add more storage space to your PC manually and pair your PC deal with an SSD deal.
Should you build your own PC or buy a prebuilt PC Black Friday deal?
In broad terms, opting to build your own PC tends to be the more cost-effective route no matter the time of year. This holds true even during Black Friday, provided the specific components you desire are discounted. On Black Friday, certain gaming PC deals offer outstanding value for money, approaching the cost-effectiveness of a self-built system. However, these pre-built options come with added advantages such as warranties, customer support, and the convenience of being fully assembled. The choice is yours!
How to get the Best Black Friday Gaming PC deals
If you're set on getting a Gaming PC this Black Friday, it's important to know what you need from your system. But once that's sorted, you'll really need to be on the hunt and comparing specs to get the best offers. Here are our three tips to bag yourself a system at a solid price
Bookmark this page: We'll be looking for you, to help find the best Gaming PC deals that we can during the period. This piece will be being updated too, so there may be new deals you haven't spotted.
Check the specs: There's a lot that goes into Gaming PCs, so be sure to check all the specs and find a deal with components used that are right for you. An HDD may be good as storage, but do you want an NVMe SSD as your primary drive? Does the system offer the right CPU for gaming? Be sure before you buy.
Be sure: Gaming PCs aren't cheap, so just be sure that you have what you want in your basket before you buy. We have lots of component buying guides and information that may help you in making a decision on your next purchase.
Final Word
In summary, the Black Friday Gaming PC Deals present an exciting opportunity for gamers. With a little bit of planning and simply knowing where to find the best offers, you can guarantee an unforgettable Black Friday this year. Secure a brand-new gaming PC that will take your gaming experience to unprecedented levels and do it for far less with the best Black Friday gaming PC deals of 2023!
Black Friday gaming PC FAQs
Here are the answers to some of the most popular questions we get:
How much money do I need to spend on a PC?
This all depends on your budget level, but in general the more money you spend, the more powerful the PC will be. That being said, PCs can get very expensive, so do your research, determine what you want to use the PC for, and figure out exactly what you do and don't need so you can save some cash.
Will there be many gaming PC deals?
Definitely. There are a lot of companies trying to sell as many of their product as they can, so you can expect a glut of gaming PC deals. Check back regularly and shop wisely to get the very best deals.