New gaming laptops receive 10th gen H-series Intel CPUs
PC gaming on the go has predominantly been a bulky affair, carting around a chunky, heavyweight laptop to even play your favorite titles on the lowest settings. Thankfully, in recent years, with companies like Razer and ASUS, producing some of the slimmest gaming laptops around, true, portable PC gaming has become a reality. However, the game has truly changed with the introduction of Intel's 10th generation H-series CPUs and Nvidia's mobile RTX Supers.
Focusing on those Intel chips, as alluded to at CES this year, the 10th generation H-series notebook CPUs have surpassed the 5GHz clock speed barrier which was seemingly impossible just a short while ago. Additionally, you won't need to break the bank to get one. Intel will be packing these speeds into not only the premium i9 variants but also the lesser-priced six and eight-core i7 processors. Granted, you won't be hitting the 5.3 GHz ceiling that the i9s will be capable of but when boosted, the i7s will reach lofty 5.1GHz heights.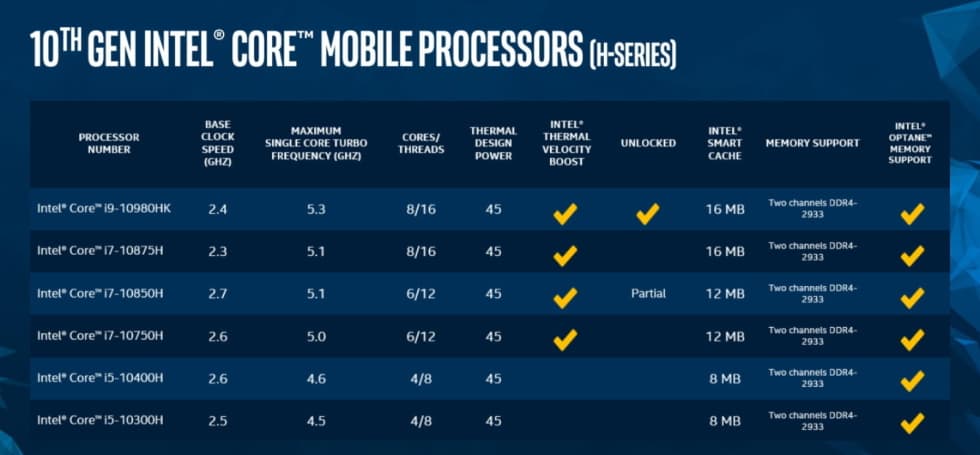 Looking at some of the new features developed in line with these CPUs we can see: Thermal Velocity Boost – increasing clock speed when temperatures are below 65C, Turbo Max Boost 3.0 – moving high demanding tasks to the fastest cores, and Speed Optimizer – one-click overclocking. All of these are handy and will make the most of your laptop when pushing it to its gaming limits.
It is quite clear that this new line of CPUs has been developed to rival AMD's Ryzen 4000 range, beating them in terms of overall clock speed performance. It will still be a tough choice however between the 4000 series and this new Intel generation. While Intel's chips offer a higher clock, AMD's closely refined 7nm architecture makes them far more efficient and coupled with 8 core Radeon Vega graphics, you're likely to see better overall gaming performance.
Will you be getting a new gaming laptop with the 10th gen H-series chips? Or will you opt for AMD's more refined architecture? Let us know down below.