If you're looking to build a gaming PC to rival the likes of the Xbox One and PS4 then look no further. This cheap gaming PC will compete with those systems and more, giving you potentially higher FPS and overall performance capabilities. Of course, there are limitations of a budget build so we'll be cutting some corners to keep the price as low as possible, but the components that we've chosen are by no means lacking in terms of value for money and power. However, as always, the components we're detailing today can be swapped out, so if you do want to improve the performance at all with a little extra cash, you can, with ease.
Unfortunately, due to various factors, the prices of the hardware listed fluctuate daily. We aim to update all of our builds as much as we can to ensure they are as close to the specified build price as possible.
Table
Build List
Case:
Thermaltake Versa H22 – Black
Due to the budget limitations in this build we've had to dial back on the fancy RGB lights and opt for pure functionality. That's why we've chosen this Thermaltake Versa H22 case to house our components. It provides everything we're looking for; adequate space, a tool-free system, and enhanced airflow through perforated metal at a very affordable price.
Motherboard:
MSI B450M Pro Max
This MSI B450M motherboard is exactly what is required for this build, it's not got all the bells and whistles but functionality wise, there's no complaining. It supports Ryzen's 3rd generation processors straight out the box and has core boost technology to get the most out of your components. Additionally, it has isolated audio capacitors providing the purest audio signal for all your gaming needs.
CPU:
AMD Ryzen 5 3400G 4-core, 8-Thread
With this CPU we've gone for a bit of a hybrid. By that, we mean that this AMD CPU is actually an APU, and comes with Radeon RX Vega 11 graphics on the chip itself so there is no need to go out and buy a pricey external graphics card. The Ryzen 5 3400G is also no slouch with a 4 core and 8 thread count coupled with overclocking support up to 4.2Ghz.
PSU:
EVGA 450 BR, 80+ BRONZE 450W
The power supply in any PC build is something you should never compromise on in terms of quality. We've gone with the EVGA 450 BR for this gaming rig as it is of bronze standard, guaranteeing great reliability and with it being made by EVGA, you know it's going to be a quality product. The 450 watts should be more than enough for this PC due to the lack of an external graphics card there is no power hogging components to justify anymore.
RAM:
Adata XPG Z1 DDR4 3000MHz 16GB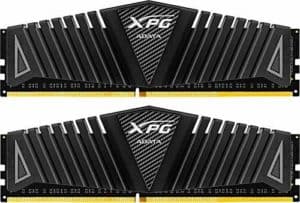 While we're building a budget gaming PC, we don't want to have lackluster performance, thus, 16gb of RAM is a must. The Adata XPG Z1 range is a fantastic choice at a very reasonable price while not compromising on quality. With 3000MHz memory speeds two 8GB sticks are a great pairing with our AMD Ryzen 5 3400G APU.
SSD:
SanDisk SSD PLUS 240GB
An SSD is almost essential in today's PC world due to faster read and writes times over the more traditional HDDs. They might cost more but it is well worth it for the vast difference in performance. The Sandisk Plus 240GB SSD is perfect for this build, it's exceptional value for money providing a decent amount of storage and read/write speeds of up to 530/s/440/s. 
What games can this PC run?
With any gaming PC, you'll want to know what games it can run and what FPS you're likely to be expecting. The list below shows off some of the more graphically intensive games as well as some popular ones for you to get an idea of how this $400 rig is performing.
Counter-Strike: Global Offensive – 1920×1080 Low 135FPS average

Dota 2 – 1920×1080 Low 105FPS average

Fortnite – 1600×900 Low 100FPS average

Rocket League – 1920×1080 Quality 90FPS average

Tom Clancy's Rainbow Six Siege – 1600×900 Low 80FPS average

PlayerUnknown's Battlegrounds – 1600×900 Very Low 60FPS average

Overwatch – 1600×900 Low 80FPS average

Warframe – 1920×1080 Medium (75% resolution scale) 80FPS average

GTA V – 1600×900 Normal 90FPS average

Forza Horizon 4 – 1920×1080 Very Low 60FPS average

Monster Hunter: World – 1600×900 Low 60FPS average

Hitman 2 – 1600×900 Low 40FPS average

The Witcher 3 – 1600×900 Low 40FPS average

Total War: Warhammer II – 1600×900 Low 45FPS average
Building Tips
With this being an entry-level budget build, you may be new to the whole PC building scene so we've detailed a few tips and tricks to help you succeed. If you're a more experienced builder you can skip this section or potentially brush up on some techniques you might not have heard of.
Use Anti-static Equipment
Electrical components are fragile at the best of times so taking care when building is essential. However, what many don't consider is the effect static electricity can have. If a static discharge occurs, it can damage your components beyond repair, which then means a whole lot of wasted money.
You can avoid any potential component damage in a couple of ways, with the most common being; using an anti-static mat for your components and wearing an anti-static wristband when assembling.
Prepare your toolkit in advance
You're going to want to get your tools ready because you don't want to start to assemble your rig and not be able to due to not having the correct equipment. There aren't masses of tools you need to successfully assemble a PC but what is essential, is a screwdriver with multiple bits. There are a few screws that are needed to secure both the components and assembling the case itself. These can usually be fitted using the same Phillips bit, with the most common being #2. However, make sure you have a #1 and #3 just in case.
Budgets
This article is all about the best budget gaming PC you can get for $400, but if you're wanting to mix and match some of these components with cheaper, or even more expensive ones, it's most certainly possible.
For those looking to make this build ever so slightly cheaper, we recommend that you sacrifice AMD Ryzen 3 3400G and choose AMD Ryzen 3 3200G instead. This will reduce the cost of the build by around $50 but it will impact your processing power, so if you're willing to take that slight power drop, this is the option for you.
You can also check out our other budget gaming PC build pages such as our $300 & $500 builds.
If you're looking to marginally beef this build-up, we recommend choosing a different case to show off your machine. The Aerocool Cylon Mid-Tower RGB PC Gaming Case is a nice case improvement over the Thermaltake Versa H22 with a tempered glass side panel and a bunch of external media ports. Additionally, it comes with an RGB front light along with 3 RGB fans to give your gaming rig a splash of color. Of course, as mentioned earlier, the prices of all of these components will increase and decrease over time so you could potentially get a bargain.
Peripherals
If you're building this rig you're going to need some peripherals to actually operate your new machine. We've listed some recommendations below that hopefully should fit the 'budget' range, while also having an array of features to suit all the gamers out there.
Razer DeathAdder Essential Gaming Mouse
Razer's whole range is tailored for gamers and this DeathAdder Essential Gaming Mouse is no exception. It's a somewhat watered-down version of the Deathadder Elite but still features 5 reprogrammable buttons, 6,400 optical DPI sensor and a durability length of up to 10 million clicks.
HyperX Alloy Core RGB – Membrane Gaming Keyboard
This HyperX keyboard is a great choice in this price point showcasing quiet keys, vibrant RGB lighting and a spill resistance of up to 120ml. It also comes with dedicated lighting and media controls allowing you to easily access these functions without taking the time to find them on your PC.
Corsair HS45-7.1 Virtual Surround Sound PC Gaming Headset
A quality PC gaming headset at an affordable price is sometimes a touch ask but this 7.1 surround sound headset from Corsair definitely does the trick. The Corsair HS45 comes with 50mm custom neodymium speakers that show off the excellent range and sound quality of this headset. In addition, the detachable, Discord approved unidirectional microphone is optimized for voice quality, reducing ambient noise to maximise your gaming communications.
SteelSeries QcK Gaming Surface – XXL
This extra large gaming surface from SteelSeries is practical as well as extremely well optimized due to the large surface area, coupled with the non slip rubber base. The top side is made from exclusive QcK micro woven cloth, allowing for smooth mouse movements even at the fastest and lowest speeds.
Essential Software
Operating System
Now you have your fresh new build, you need some operating software to actually use the machine. There is no disk drive in this one so you may be wondering 'how am I going to install my operating system?' well, it can actually be installed via usb. Whether you go with Windows or Linux, you will have to download the respective files onto a spare usb and plug it in when booting.
Graphics Card Drivers
You want to be looking at the highest resolution possible and that means ensuring you have the latest graphics card drivers installed. This is vital in your new build as you could be stuck with stock drivers that are not only out of date, but give you a sub-optimal resolution. Go to the maker of your graphics card website which in this case is Nvidia, and find the correct drivers.
Antivirus Software
You're going to want to protect your PC from any attacks, so installing antivirus software is a must have. There are a variety of providers with different levels of protection but if you're just wanting a piece of free software, we recommend Avast. Avast's antivirus protection is the most basic you can get, but for free, there's no complaining from us.
Web Browser
Choosing the web browser that caters to all your surfing needs is always down to personal preference. We would recommend either Google Chrome or Mozilla Firefox as these are the fastest browsers out there, and the most widely used across the world. Some argue that while Chrome is the fastest browser out there, it does utilize a lot of memory, so choosing Firefox could be the way to go if you feel the same.
Conclusion
Overall, this PC provides a real bang for your buck. It has everything you need to get gaming on decent resolutions while also having good, stable fps levels. Of course, there are improvements that could be made if you stretch your budget just a little further, but if you're a PC building rookie, this entry-level rig should appease your requirements. If you did end up building this rig, enjoy your new PC! Be sure to check out our other articles if you have any issues or want to explore different options!