How to buy Crypto with Paypal
Online currency giant PayPal has launched it's crypto service. you can now buy, sell and hold crypto within the app. Let's find out how to do it.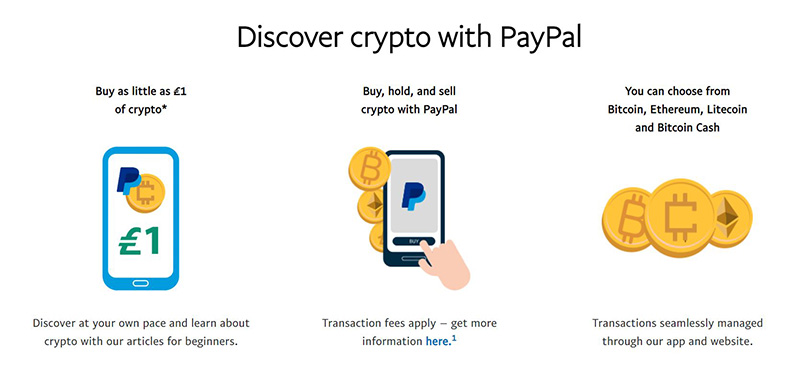 Cryptocurrency has been threatening to become mainstream for a while but the barrier to entry was always knowledge for a lot of people. That might have just changed with the arrival of PayPal into the space. You can now buy, sell and hold cryptocurrencies from within your PayPal app, negating the need to use other services you might not be as familiar with such as Coinbase or Crypto.com.

The simple fact is, love it or hate it, many of us use Paypal pretty regularly. More recently, eBay has shunted the company aside in favor of its own payment system but it appears PayPal might now have bigger fish to fry. Now, on your phone within the PayPal app, you can enter the once murky world of holding crypto, and buying and selling from your new portfolio of Bitcoin, Ethereum, Bitcoin Cash, and Litecoin.
Get Started with PayPal Cryptocurrency

Now it should go without saying that while you can make money with crypto you can also lose it- heavily. So this is certainly not anything other than a how-to on how to use the system to get involved.
Assuming you already have the app on your smartphone, open it up. If you haven't then you will need to download the PayPal app from your relevant store and sign in.
On the bottom nav, you should now see a Crypto section (third from the left). Press this and you will enter PayPal's new Crypto section where you can buy, sell or hold any of the four currencies mentioned above.
PayPal Cryptocurrency Fees

PayPal (obviously) attached a value to its service and its fees are, well, PayPal, but in terms of just starting to dabble in crypto we think it's probably worth it. Basically, you are going to pay a minimum of 50c on any transaction with that rising depending on how much you buy or sell.
Select which cryptocurrency you want to buy. If it is your first time using the app you will just need to do a quick verification and clarify your status as either a US taxpayer or not – if you are in the UK, just tick no and continue.
Choose how much of the currency you want to buy and click through. You can see the fees again here if you need to but you will be shown the final amount before you complete the transaction.

When you click purchase you will be taken to a screen where you choose your payment method – with the default being what you usually use for your PayPal transaction. Click a couple of times and you are now the proud owner of your very own cryptocurrency where you can watch it fluctuate wildly in value day by day.

Remember: If you don't know what you are doing and are just starting out in the world of Crypto – take a little time to learn the ropes. Watch PayPal's handy tutorial videos and don't commit too much initially. You will thank us in the long-run.
Your Crypto wallet now appears on the dashboard of your PayPal app under your normal PayPal balance so you can keep a check on its performance.