Last Updated on
We understand the allure of more pixels, more views, more… everything! But we also know it's a jungle out there, so we've decided to be your reliable compass in this vast ocean of choices. So on this page, you can see crème de la crème of ultrawide monitor deals, just for you.
Don't worry, we're not here to push a particular brand or model your way. Nope. Our mission is simple: arm you with a smorgasbord of options so you can wield the power of choice. So, put your feet up, grab that steaming mug of Joe, and let's set sail on this exciting ultrawide monitor expedition together!
Today's best ultrawide monitor deals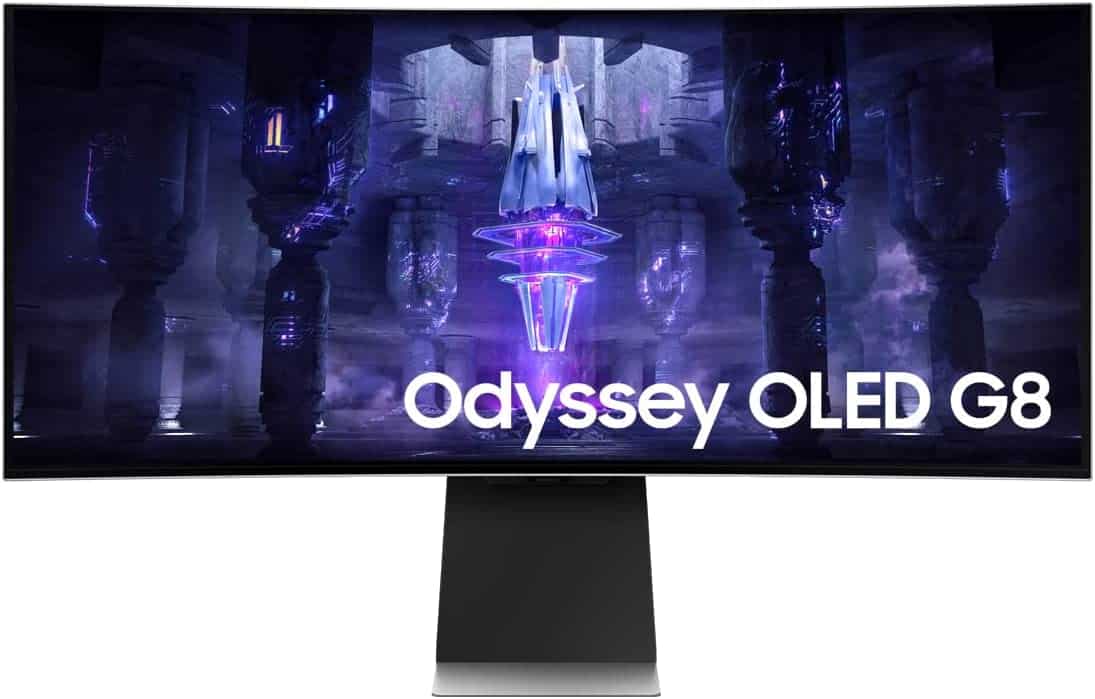 Save $207 now!
SAMSUNG 34-Inch Odyssey G85SB Curved Gaming Monitor
Save $300 Now!
SAMSUNG 34-Inch Odyssey G85SB Series QD-OLED Ultra WQHD Curved Gaming Monitor
175Hz, 0.03ms, DisplayHDR True Black 400, AMD FreeSync Premium Pro, Advanced Game Streaming, LS34BG850SNXZA, 2023
SAVE 29% NOW
SAMSUNG 49″ Odyssey Neo G9 G95NA Gaming Monitor
4K UHD Mini LED Display, Curved Screen, 240Hz, 1ms, G-Sync and FreeSync Premium Pro, LS49AG952NNXZA, White & Black
20% off
Corsair XENEON FLEX 45WQHD240 Gaming Monitor
45-Inch OLED WQHD (3440 x 1440) Bendable Display, 240Hz Refresh Rate, 0.03ms GtG Response Time, NVIDIA® G-SYNC Compatible, AMD FreeSync™ Premium – Black
21% off
SAMSUNG 49″ S95UA Super Ultrawide Dual QHD Monitor
4ms, QLED, HDR400, USB-C, USB Hub, 120Hz, Height Adjustable Stand, (LS49A950UINXZA) 2022, Charcoal Black
*Prices are subject to change. PC Guide is reader-supported. When you buy through links on our site, we may earn an affiliate commission.
Learn more
Where to find the best ultrawide monitor deals
You're probably itching to ask, "Where are these alluring deals you're tempting us with?" And the answer? Just about anywhere and everywhere! Renowned online marketplaces like Amazon and BestBuy, and digital tech boutiques such as Newegg, are gold mines for fantastic offers. Not to mention the manufacturers' own websites – often hidden chest loots of discounts. But hey, don't underestimate your local electronics stores. They can spring up with surprise deals that give the big online guys a run for their money.
Are ultrawide monitor deals worth it?
Now let's talk value. Are these ultrawide monitor deals worth a serious look, or are they just a flash in the pan? Well, as the wise ones say, beauty (or in this case, value) is in the eye of the beholder.
To the avid multitasker juggling complex programs, or the gamer thirsting for a more immersive experience, an ultrawide monitor deal is like unearthing a chest of gleaming doubloons. Imagine getting that expansive, game-changing view at a fraction of the cost! Now that's what we call a real steal.
But let's flip the coin. If you're a casual user who spends most of your time on basic tasks like web surfing or typing up documents, then an ultrawide monitor might be like bringing a cannon to a knife fight. So, whether these deals are worth their salt hinges on your specific needs and wants.
How long will Father's Day ultrawide monitor deals last?
Fathers' Day is just around the bend, folks! Set to fall on June 18th this year, it's the perfect occasion to make a tech-loving dad's day with an ultrawide monitor. And the best part? You've got a solid window to shop around. As you see, Fathers' Day deals to kick off a couple of weeks prior and stretch until the few days after the big day. You've got plenty of time – use it well.