Last Updated on
Another November, another Black Friday – and this year it looks like the online Black Friday PC deals are going to be the ones to watch. With that in mind, we have compiled this exhaustive list of all the very best Black Friday computer deals that have been made available in 2023.
So, whether you're looking for a top-of-the-range PC with the best GPU and CPU money can buy, or you're looking more for a budget PC, we've got you. Our expert team is working around the clock to make sure that no PC deal slips through the cracks this Black Friday and we'll be compiling them all into a list which you can find below on this page, making it easier than ever for you to pick up the best possible Black Friday PC deal this year.
Today's best computer deals 2023
In this section, we have handpicked some excellent saving opportunities on computers for you to help you snag a discount now.
Dell Inspiron 3020S Desktop, Intel Core i5-13400, 16GB DDR4 RAM, 512GB SSD + 1TB HDD – Was $749.99, Now $639.99
Acer Aspire Desktop, 12th Gen Core i5-12400, 12GB DDR4, 512GB NVMe SSD – Was $619.99, Now $560
MSI PRO Mini PC Business, Core i3-12100, Intel UHD 730, 8GB RAM, 250GB SSD – Was $479, Now $384
Best Black Friday PC Deals
Here you'll find all the best PC deals that Black Friday 2023 has to offer. This list will be constantly updated as the deals come in. Just keep on coming back to ensure that you don't miss out on the savings to be made this Black Friday.
Editor's pick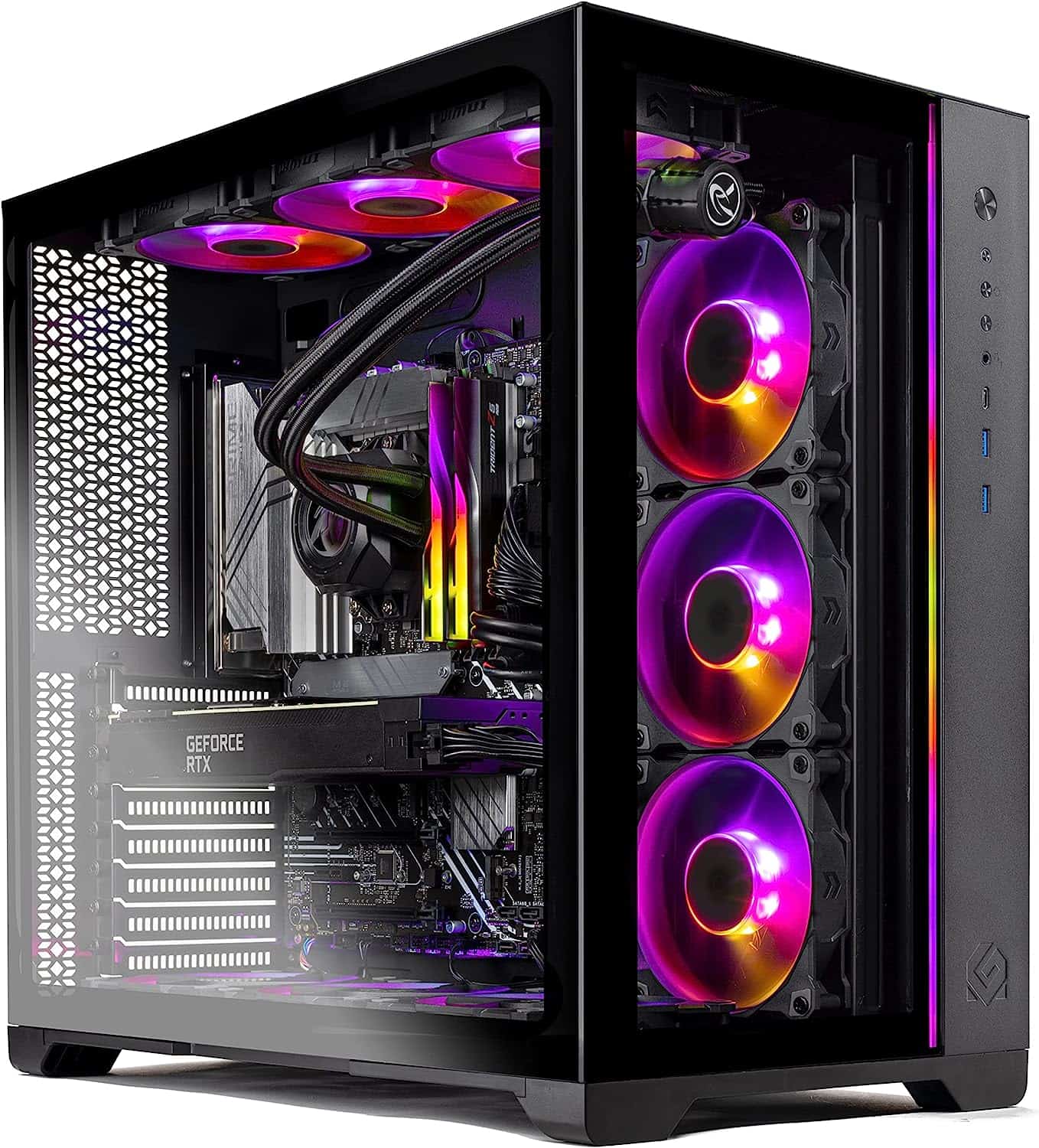 Save 49% NOW!
Skytech Gaming Prism II Gaming PC Desktop, RTX 3090
INTEL Core i9 12900K 3.2 GHz, RTX 3090, 1TB NVME Gen4 SSD, 32G DDR5 RGB, 850W GOLD PSU, 360mm AIO, AC Wi-Fi, Windows 10 Home
64-bit
Editor's pick
Save 35% NOW!
Skytech Gaming Prism II Gaming Computer PC Desktop, RTX 3080 Ti
AMD Ryzen 7 5800X 8-Core 3.8GHz, RTX 3080 Ti 12G GDDR6X, 1TB NVMe Gen4 SSD, 16GB DDR4 3200, RGB Fans, 360mm AIO, AC WiFi, Windows
11 Home 64-bit
Editor's pick
Save 35% NOW!
Skytech Gaming Prism II Gaming Computer PC Desktop
AMD Ryzen 7 5800X 8-Core 3.8GHz, RTX 3080 Ti 12G GDDR6X, 1TB NVMe Gen4 SSD, 16GB DDR4 3200, RGB Fans, 360mm AIO, AC WiFi, Windows
11 Home 64-bit
Editor's pick
Save 11% NOW!
Corsair Vengeance i7400 Series Gaming PC
Liquid Cooled Intel® Core™ i5 13600K CPU – NVIDIA® GeForce RTX™ 4060 Ti GPU – 1TB M.2 SSD – 16GB Vengeance RGB DDR4 Memory –
Black
Editor's pick
Editor's pick
Save $345 NOW!
ASUS ROG G22CH DS766 Gaming Desktop PC
Editor's pick
Save 50% now!
Thermaltake Reactor 380 Liquid-Cooled PC
(AMD Ryzen 7 5800X, RTX 3080, 16GB 3600Mhz DDR4 RGB ToughRAM, Seagate FireCuda 520 NVMe 1TB, WiFi, Win 10 Home) Gaming Desktop Computer TW1B-B550-R38-LCS
Editor's pick
Save 26% NOW!
HP OMEN 45L Gaming Desktop
13th Generation Intel Core i9-13900KF, 16 GB RAM, 1 TB Solid State Drive, NVIDIA GeForce RTX 4070 Ti Graphics, Windows 11 Home, GT22-1082 (2023)
Editor's pick
Save 17% NOW!
Skytech Pro Eclipse Gaming PC Desktop
Intel Core i9 13900K 3.0 GHz, NVIDIA RTX 4090 24GB, 1TB NVME Gen4 SSD, 32GB DDR5 RAM, 420mm All-in-One Liquid Cooler, Windows 11
Editor's pick
Save 15% NOW!
Acer Nitro 50 N50-620-UA91 Gaming Desktop
11th Gen Intel Core i5-11400F 6-Core Processor | NVIDIA GeForce GTX 1650 | 8GB DDR4 | 512GB NVMe M.2 SSD | Intel Wi-Fi 6 AX201
| Keyboard and Mouse
Where To Find The Best PC Black Friday Deals
Knowing which products to look out for is one thing. Knowing where to buy them as well, is another. Amazon is the most popular option. It's been one of the most popular and trustworthy platforms for a while now. This year Amazon's Black Friday sale will last from the 17th of November until the 27th. Ramping up until the 24th, that's plenty of time to pick up a discounted PC.
Other than that, feel free to stick around our page as well. We don't sell these components, but we show you where to get the best deals. Local retailers should probably be your last option. Finding the best deal locally is rough. Not to mention that people tend to go crazy and step on each other during Black Friday.
When will the best Black Friday PC deals start in 2023?
Black Friday kicks off in earnest on 24th November, however, some deals can kick off earlier than usual so it's always a good idea to keep a close eye out for anything in the run up. Additionally, Cyber Monday kicks off on the 20th of November which is usually a great time to figure out what kinds of products are going to go on sale.
How to get the best PC Black Friday deals in 2023
In terms of platform, we recommend shopping online because you'll get a wider selection and won't have to deal with the crowds. However, in terms of strategy, we generally recommend setting a budget for what you're looking for and snapping up the first good deal that comes your way. Demand is high during Black Friday meaning if you don't snap up a deal, someone else will. Take the initiative and grab what you can.
Top features of the best PC Black Friday deals in 2023
When it comes to a gaming PC, you'll want to be looking out for the GPU, the CPU, and the form of memory.
The GPU (or graphics card) in a PC is what powers gaming performance. Often, it's the priciest piece of kit of the lot and many prebuild PC companies will determine the price of the entire PC based just on that. Modern PCs will be using the NVIDIA 30, or 40 series or their AMD competitors of the Radeon RX 7000 range. If you need help, check out our GPU guide.
The CPU (or processor) is what drives the raw processing power of your machine. If your PC needs to do a million calculations, the processor is the brain that does the hard work. Generally, in pre-built PCs the CPU will match the quality of the GPU, but our CPU guide can help if you need more assistance.
Finally, PC storage comes as SSD, or HDD. Generally, SSD is preferred as its much faster. For PC gaming, make sure that the PC has a minimum of 1TB SSD. It's not the end of the world if they don't meet that boundary, but it means you'll need to be prudent with your memory organization or upgrade at a later stage.
Best PC Black Friday deals FAQs
Should I buy a gaming PC now?
We think so. You're unlikely to get a better price than a Black Friday deal, so if you see something that appeals we recommend jumping on it ASAP.
Can I upgrade my prebuilt gaming PC?
Absolutely. With a little googling and research, you'll be able to figure out how the innards work and make modular upgrades as you like later down the line.